Aaldering Cabernet Sauvignon – Merlot 2018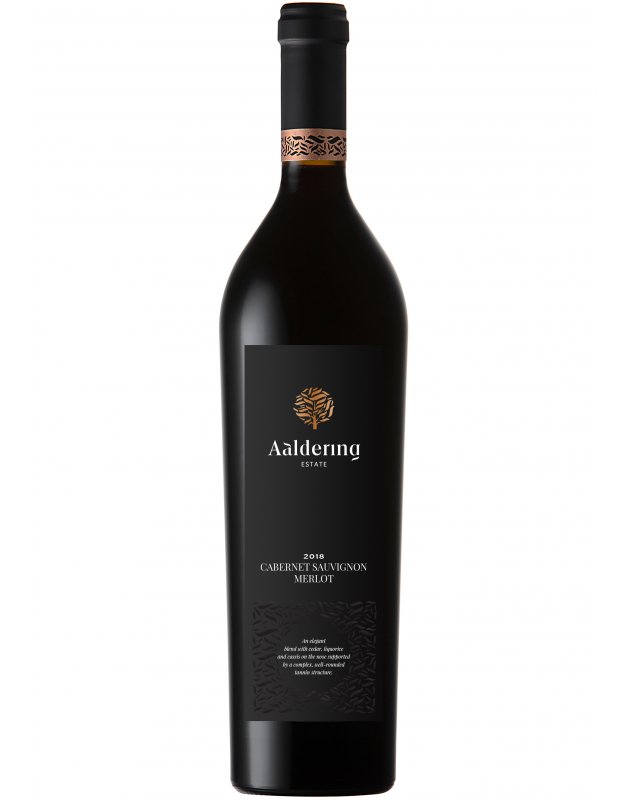 Aaldering Cabernet Sauvignon – Merlot 2018
An elegant blend with cedar, liquorice and cassis on the nose supported by a complex, well-rounded tannin structure..

Food Matches
Rib-eye, lamb, green bell pepper, grilled vegetables, Mediterranean spices, garlic twists, mint

Technical Analysis
ALC: 14,42% RS: 3,3g/l TA: 5,4g/l pH: 3.60
Technical Analysis
alc
14,42
rs
3,3
pH
3.60
ta
5,4
Wine Information
Accolades
Other
Vineyard Notes
Clone: CY76 MO36A CS136
Rootstock: Richter 110 Richter 101/14
Altitude: 110-120m 110-150m
above sea level above sea level
Hectare: 1,32 ha. 3,93 ha.
Planted: 1999 1998
Soil: Decomposed Granite Decomposed Granite
(Hutton, Clovelly Soils) (Hutton, Clovelly Soils)
Orientation: South West facing South East facing

Winemaking Report
The growing season leading up to the 2018 vintage was exceptionally dry. This is where nature starts to provide for itself. The small rainfalls came at the right times when it was really needed. The roots of the vines started to search for water deeper in the soil allowing the plant to be less dependent on the ambient temperatures. This action will have a positive impact for the future vintages too.
Both cultivars were vinified separately, receiving different treatments according to grape phenolic profile.
Pump overs occurred 4 times throughout a 24 hour period. Natural malolactic fermentation took place in stainless steel tanks. The wines were then aged separately in 225 liter French oak barrels (Barrique Bordelaise) for 27 months. Assemblage was decided upon, with the blend being 60% Cabernet Sauvignon and 40% Merlot. These proportions were chosen after a thorough blending trial process.
Winemaker
FoodSuggest
Rib-eye, lamb, green bell pepper, grilled vegetables, Mediterranean spices, garlic twists, mint
Ageing
Already drinking beautifully but will cellar well for another 7-10 years. Bottled with a natural cork closure, in order to ensure a unique aging capacity. Ideal serving temperature between 16-18°C/61-64°F..